Heat Treated Pallets
International Standard for Phytosanitary Measures ISPM15
guide for regulatory wood and wood packaging in international trade.
The United Nations Food and Agricultural Organization (FAO) Interim Commission on Phytosanitary Measures adopted ISPM15 in March 2002. This means that countries can now decide to implement these internationally recognized import regulations to prevent the spread of wood pests.
The new international mark has been agreed trademarked and now authorized for use.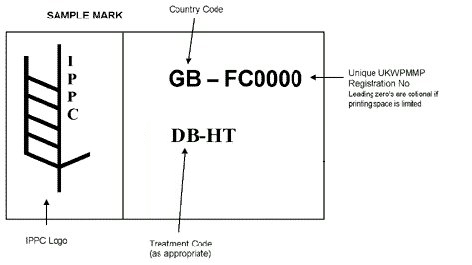 Treatment measures approved under ispm15
Heat treatment (HT) to a minimum core temperature of 56oC for a minimum of 30 minutes.
Fumigation, using Methyl Bromide (MB) to the prescribed dosage and temperature.
To attest to compliance to the standard the pallet must be clearly marked on 2 faces showing the official IPPC logo, a 2 letter country code (xx), a unique number (000) assigned by the National Plant Protection Organization (NPPO), HT for Heat Treatment or MB for Methyl Bromide and DB to signify debarked.
It is unclear when the use of the IPPC logo will be mandatory and when some countries will stipulate its use. Members of the UK Forestry Commission Wood Marking Programme are being advised to implement the IPPC logo albeit remains optional. Marking pallets with the NPPO stamp without the IPPC logo was a practice introduced by the EU to enable re-import of pallets originating and treated in the EU, back from the USA, Canada, China and Japan. The European Commission introduced regulations 1 October 2001 to control the importation of wood packaging from these countries, these regulations are still in force requiring pallets to be HT or MB treated.
The current position regarding implementation of the international regulations is; New Zealand has announced (April 2003) new regulations that include acceptance of pallets that comply with ISPM15.
Republic of Korea has issued formal notice to implement ispm15.
China will only accept wooden pallets stamped DB-HT or DB-MB with the accompaniment of a phytosanitary certificate.
The North American Plant Protection Organization (NAPPO), which covers Canada, USA and Mexico, have announced these countries will implement ISPM15 2 January 2004
The EU is planning implementation in January 2004 and is expected to publish its proposals in September/October this year.
Other countries that have not made clear their intent at this stage, because import regulations differ depending on the exporting country.
REPAIR OF ISPM15 COMPLIANT WOOD PACKAGING MATERIAL
Following repair, the entire item of wood packaging must be re-treated and re-marked. This includes repaired, recycled and re-manufactured wood packaging material. For example, pallets marked HT that are repaired must be re heat treated in their entirety (i.e., the complete pallet). The accreditation mark of the repairer must be applied, and all previous ISPM15 marks must be removed.


TRY OUR FREE QUOTATION SERVICE NOW - CLICK HERE